THE past couple of years have been quite an engaging journey as I focused on setting the tone for my future writing and publishing plan. The journey involved switching my publishing platform to enable me negotiate the kind of flexibility required to put my books in the hands of readers.
I'm both surprised and thankful at what I have learnt so far especially from other successful Indie publishers and now I feel ready to bring a stream of Inspirational fiction books to my very patient readers.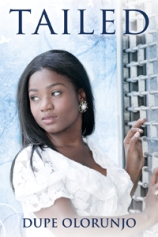 As a first Step, TAILED has been reviewed and re-edited for an easier breezy print read and I am also happy to let you know that the KINDLE edition is also available on Amazon.
TAILED
It's 1966 and the lovely Ada, toast of her village and pride of her family, looks ahead to a bright future, especially when she falls in love with Alaba, the man of her dreams.
Her only dilemma is that her parents, proud custodians of their Igbo heritage, are unhappy with her choice and strictly forbid her to marry a Yoruba man. But Alaba has captured her heart for good, and Ada adamantly refuses to give him up; even when her mother threatens her with a deadly curse.
The couple ultimately have their way, but, as the years progress, Ada's life takes an unexpected turn. The fabric of her marriage begins to wear thin; and each of her three children bring her frightful emotional agony.
Life becomes bleak and Ada suddenly discerns that she is being tailed by her mother's curse. Can Ada find a greater power to break the curse?